Hyderabad tops charts in country's office space market for second half of 2019
byREVIEW MY PROP
JULY 24, 2020
HYDERABAD: Setting a blistering pace of growth in office transactions thanks to the soaring demand from the IT/ITeS sector, Hyderabad overtook India's Silicon Valley, Bengaluru, to emerge as the city with the highest office space transactions in the country for the second half of 2019, according to global real estate consultancy firm Knight Frank.

While Hyderabad clocked 8.9 million sq ft of office transactions in the July-December 2019 period, Bengaluru could record only 7 msft office transactions in the same period. In H2 2018, Bengaluru was ahead in the office market with 6.9 msft transactions vis a vis Hyderabad's 4.3 msft. Mumbai clocked the third highest office transactions during H2 2019 at 5.1 msft but recorded flat growth as compared to the corresponding period of 2018.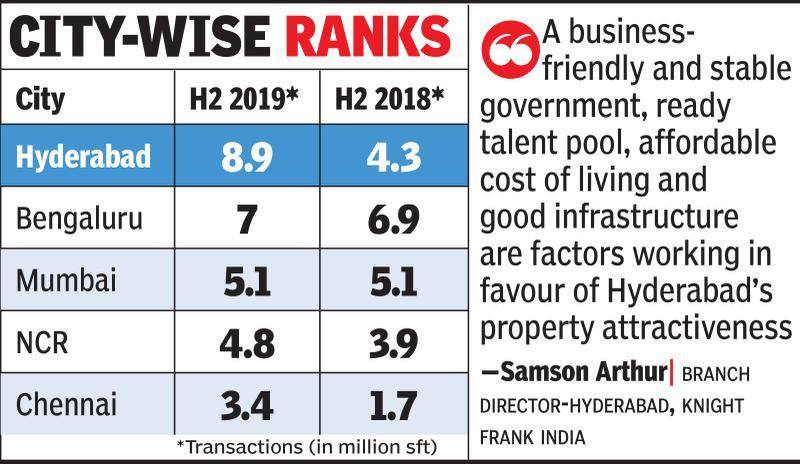 The IT/ITeS sector accounted for a chunk of the total office transactions in Hyderabad at 58% in H2 2019, up from 44% in H2 2018. Co-working players, on the other hand, accounted for 1.36 msft or 15% of the total office space transacted in Hyderabad, Knight Frank said in its latest report 'India Real Estate: H2 2019' that compared the performance of eight cities.


The year 2019 also saw Hyderabad record an all-time high of 12.8 msft in terms of office transaction volumes, an 82% jump over the 7 msft figure it clocked in 2018. However, despite its record breaking performance, the city emerged second in office transactions for 2019 after Bengaluru, which topped the charts with 15.3 msft transactions in 2019 vis a vis 13.4 million in 2018. Mumbai came third here too with 9.7 msft office transactions during the full year as compared to 7.9 msft in 2018.
Knight Frank pointed out that infrastructure constraints in Bengaluru are prompting IT/ITeS occupiers to consider Hyderabad for their expansion plans. Adding to Hyderabad's attractiveness quotient is the availability of a rich and diverse talent pool thanks to the presence of premier educational institutions.
"Hyderabad's remarkable surge brings it at par with other major markets.... Primarily driven by organic growth of technology and ITeS companies, this demand is expected to remain stable in the near future. Increased activity in the co-working segment is further supplementing the city's growth momentum," Samson Arthur, branch director-Hyderabad, Knight Frank India, said while releasing the report.